Van Gogh continues to inspire with a new collection of wallpapers in collaboration with BN Walls.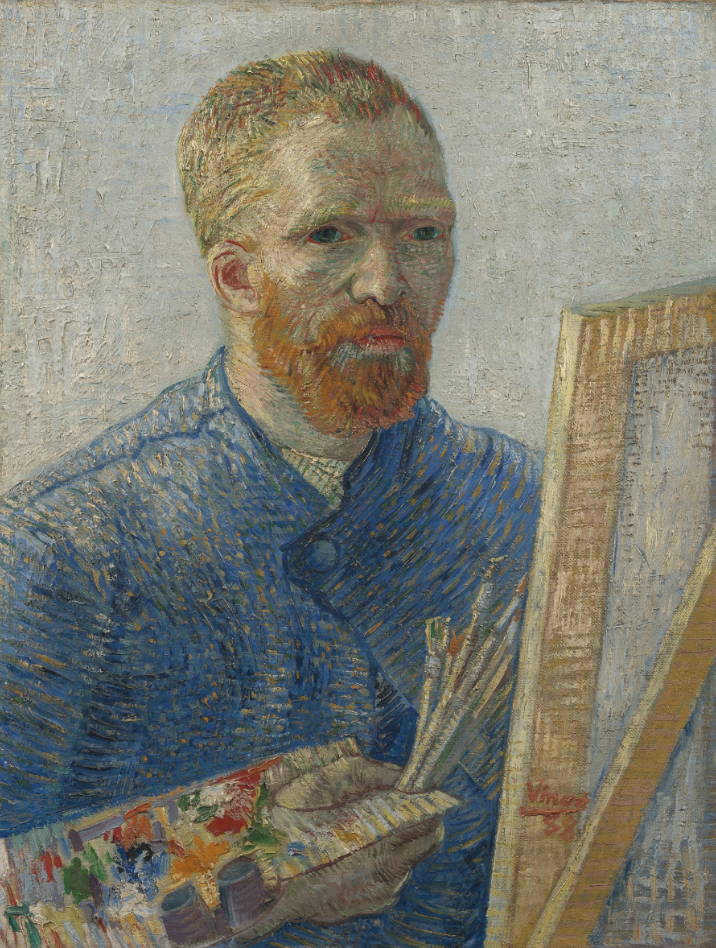 Vincent Van Gogh (1853-1890)
Was a Dutch post-impressionist painter who is considered one of the most influential figures in the history of Western art. While he is known for various subjects in his paintings, he had a significant fascination with flowers and created numerous beautiful and expressive works featuring floral themes.
Van Gogh's interest in flowers began during his time in Paris, where he was exposed to the works of Impressionist painters who often depicted flowers in their art. This inspired him to explore the subject in his own unique style. He believed that painting flowers allowed him to express feelings and emotions in ways that went beyond the surface beauty of the subject.
Van Gogh's approach to painting flowers was distinctive, characterized by bold brushwork, intense colours, and emotional intensity. He used flowers as a means of expressing his inner turmoil and struggles, and at the same time, finding beauty and solace in nature.
Perhaps one of his most famous works, Van Gogh created several versions of sunflowers, each with its own distinct style and color scheme. These paintings are known for their vibrant and intense use of yellow hues, representing the artist's search for joy and light in his life.
"Let life be beautiful like summer flowers and death be like autumn leaves."
Van Gogh Has Inspired The Future of Design Industries
Vincent van Gogh's artwork has been a profound source of inspiration for various creative industries, including interior design and home decor. One way his art has been adapted into contemporary settings is through a collaboration of wallpapers with wallpaper company BN Walls and the Van Gogh Museum. Based in Holland - BN Walls is a prominent wallpaper manufacturer and distributor known for its innovative and artistic wallpaper designs. The collaboration between BN Walls and the Van Gogh Museum has led to the creation of a remarkable collection of Van Gogh-inspired wallpapers. .
These wallpapers bring the beauty and emotional depth of his paintings into living spaces, allowing people to surround themselves with the essence of his art.
Van Gogh wallpaper by BN Walls typically features reproductions of some of his most famous works, such as "Starry Night," "Sunflowers," "Irises," "Almond Blossoms," and more. These designs capture the essence of Van Gogh's unique brushwork and vibrant color palette, transforming walls into stunning works of art. Whether it's a living room, bedroom, or even a commercial space, Van Gogh wallpapers add a touch of artistic elegance and creativity to the environment.
The collaboration between BN Walls and the Van Gogh Museum allows art enthusiasts and interior design lovers to enjoy the magic of Van Gogh's art in their homes or spaces in a new and immersive way.
These wallpapers not only replicate his paintings faithfully but also provide an opportunity to experience his work on a larger scale, making a bold and artistic statement on any wall some designs are offered as murals which immerse a space entirely as though you stepped into a gallery painting. Where other designs are supplied as repeating patterns creating a forest of almond blossom trees, plum orchids & Iris's.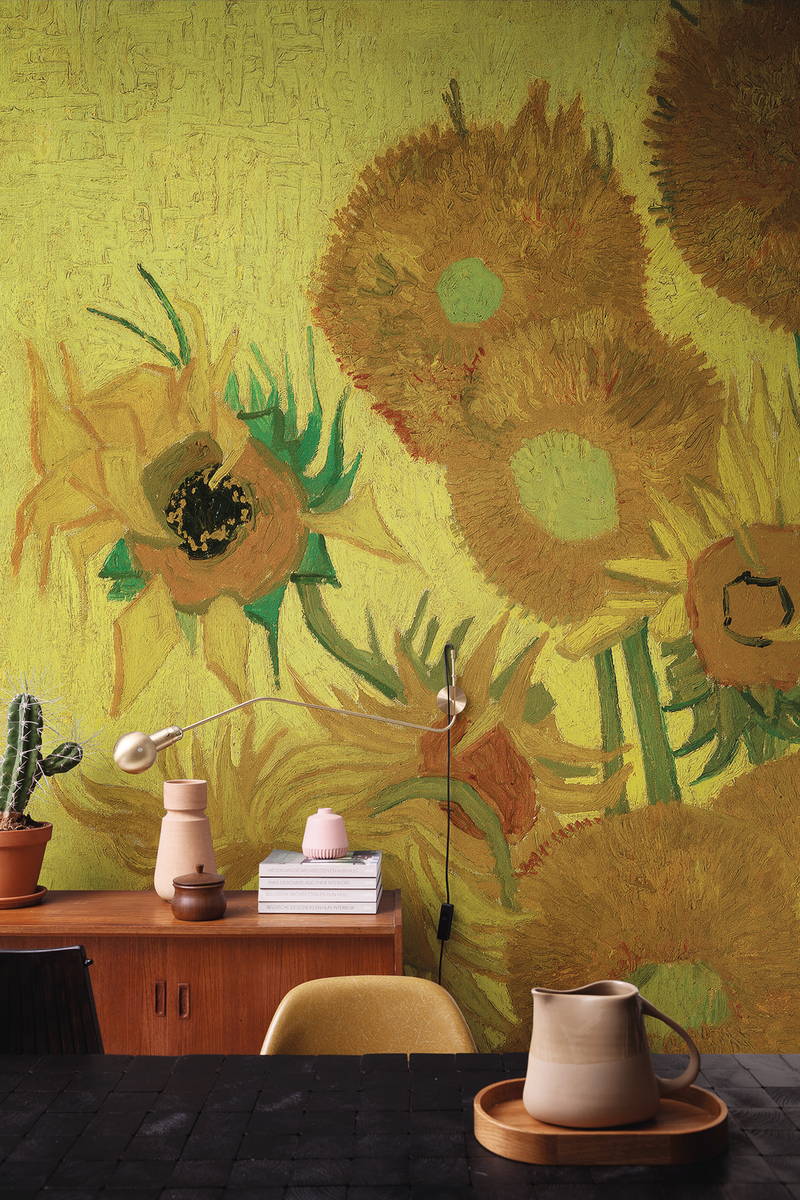 A recent project by Studio Cache used two designs to perfection. Tadmarton Grange, a Grade II listed property was beautifully reimagined using Van Gogh wallpaper Flowering Plum Orchid in Forest Green which worked perfectly with the scheme's heritage palettes; proving that these designs remain modern while connecting us to past masters.
The master bedroom at Tadmarton Grange, Oxfordshire, newly completed residential project by Studio Cache.
Van Gogh Museum 50th Anniversary
2023 celebrates the 50th anniversary of the Van Gogh museum and a continuation of their relationship with the artist. BN Walls are now on their third collection of wallpaper which launched this year of 2023 to mark this milestone with the museum. Introducing the collection Van Gogh III. This collection reimagines designs of the most popular Almond Blossom with a mixture of new designs following a more contemporary look such as, 'Brushstrokes' which captivates fine painterly details which presents his distinctive style of painting. And blossoming bouquet which brings many of his favourite florals together in one composition all taken from various paintings.
Van Gogh Almond Blossom Wallpaper, Green - by BN Walls
Van Gogh Brushstrokes, Yellow - by BN Walls
Van Gogh Blossoming Bouquet, Green - by BN Walls
The use of Van Gogh wallpapers not only enhances the aesthetic appeal of a space but also brings a sense of art appreciation and cultural significance. It allows individuals to engage with art on a daily basis, enriching their lives with the beauty and profound meaning that Van Gogh's paintings carry.
By adorning walls with these masterful designs, people can create spaces that celebrate the legacy of one of the greatest artists of all time and immerse themselves in the beauty of his timeless creations.
Despite facing mental health challenges throughout his life, Vincent van Gogh's remarkable body of work, including his flower paintings, has left a lasting impact on the art world, influencing generations of artists and art enthusiasts alike. His ability to convey profound emotions through his art continues to resonate with audiences to this day.
To learn more about his life, work, inspiration and the celebratory 50th anniversary of the Van Gogh Museum visit https://www.vangoghmuseum.nl/en for tickets or a visit.
Written by Lea-Anne Falandysz
Created by Joanna Steel
---